Summer Program 2020
August 8 — September 15, fully online, free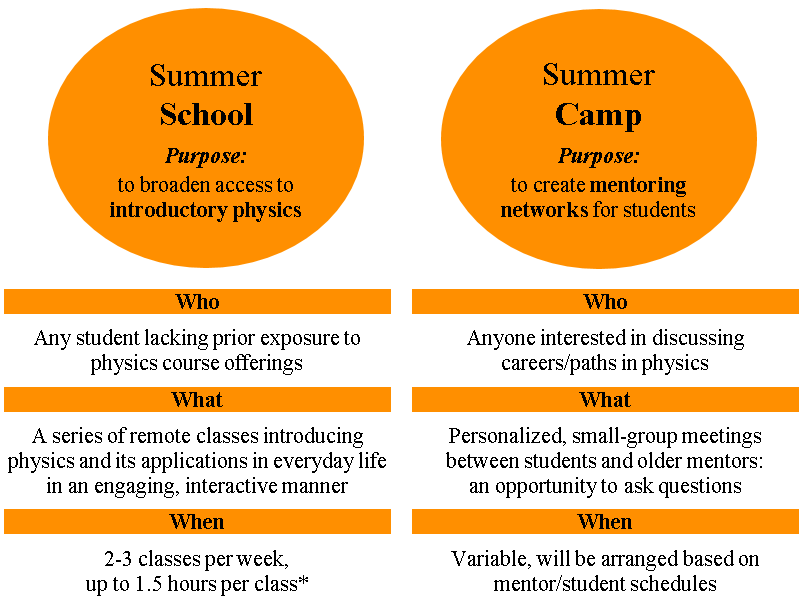 Update: the Summer Program has concluded in mid-September. We thank everyone — students, instructors, and facilitators — for volunteering their time to this inaugural initiative.
All participants are asked to submit a feedback survey ASAP
, so as to enable us to plan future iterations of such a program.
Please note: our entire virtual pilot program is offered
free of charge
for all participants. There will be no fees to attend classes or networking sessions. (This may change for next year.) You may register for the summer school even after the official start date, noting the attendance policy in the Details section below. Registration for networking sessions (Summer Camp) will remain open for the duration of the program.
Summer School
•

Register here
•

Summer School class schedule*

*All times are EDT (GMT-4). Those unable to join live will be emailed with the lessons' recordings as long as they register in advance. Please see more details below.
Summer Camp / Networking
Over 30 facilitators (graduate and undergraduate students at — and alumni of — many US-based universities) have graciously agreed to host the networking sessions.
We welcome more participants to take part in our virtual sessions, so please sign up above if you are interested in connecting with others.
Registration for networking sessions will remain open for the duration of the summer program.
Details
Physics Unlimited will be offering an inaugural online summer school and networking opportunities in August with the goal of benefiting a wide range of students. The virtual program is two-fold in its aims and will be geared toward two demographics:
School: those high school students (or others; no age cutoff!) who had no prior exposure to physics due to limited offerings and opportunities in their schools, and
Camp: any high school or college students who desire to meet like-minded people and/or get some helpful advice on their potential future path(s) directly from other students and (relatively) recent graduates of various universities.
This first summer our pilot program is free of charge for all participants.
1. Summer School
We will be teaching our new
Moonshot curriculum
developed last year to students who come from high schools that do not provide introductory physics classes (40% of all high schools in the US, according to studies), as well as those with non-traditional educational backgrounds and groups underrepresented in physics. If you fall into either category, please apply for our virtual Summer School here:
The Summer School class
schedule
is embedded below. All times are EDT (GMT-4). Students unable to join live will be emailed with the lessons' recordings as long as they
register
in advance.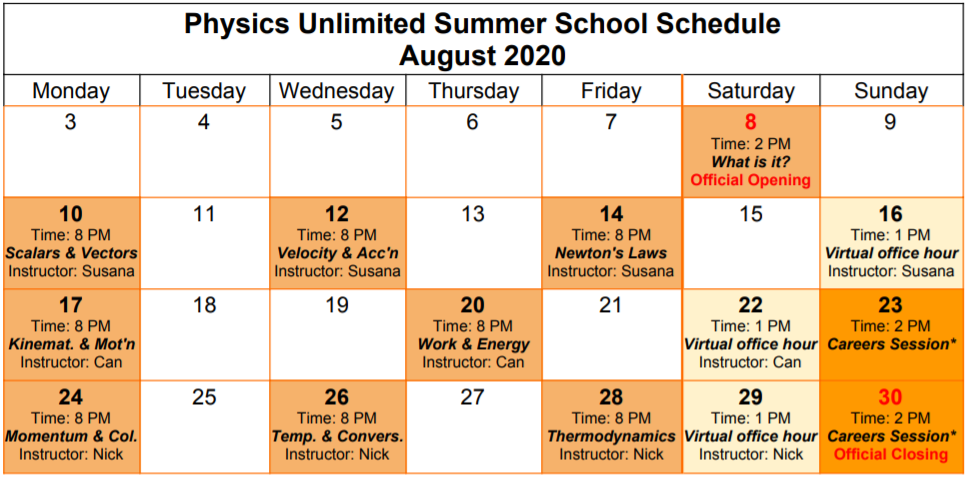 Registrants will also have the opportunity to ask the
instructors
questions via a dedicated email address and attend virtual office hours. They will also be invited to communicate with other online learners (and the instructors) through Keybase, an encrypted messaging and collaboration tool.
Certificate of attendance rules:
Participants will receive certificates of Summer School attendance as long as they ask or answer at least one question during or after at least 5 of the 9 (live or recorded) lessons, before the next class is held.
We are also researching the most suitable high schools to contact about our Summer School, for both the pilot program and future iterations.
If you know of a school with an inadequate or non-existent physics program, please let us know by emailing directors@physicsu.org ASAP.
2. Summer Camp
In parallel to the Summer School, we are offering a set of networking sessions for
any
high school or undergraduate students, with "breakout room" sessions to be facilitated by either current or former university students in STEM. Our prior
PUEC
and
PUPC
competitors and the Summer School learners are welcome to take advantage of this program as attendees, along with anyone else. We are not restricting participation in the virtual Summer Camp to any educational levels: everyone is welcome regardless of their background.
Over 30
facilitators
so far have graciously agreed to host the virtual networking sessions.
We are currently looking for more participants.
If you are interested in attending as a Summer Camp participant (open to all), please fill out these two forms:
If you would like to suggest a high school that we may reach out to in publicizing this community-building program, please provide its name here:
Info for facilitators
You are eligible to be a facilitator as long as you are
at least
a current undergraduate student with some STEM-oriented focus and have completed freshman year. There is no upper age or experience cutoff. Whether you have studied physics in some capacity at university, pursued graduate studies in physics or related fields, or supplemented your other STEM studies with physics, you would be the perfect fit for a facilitator of our Summer Camp. Graduate students and alumni of any university in the US or internationally are also strongly encouraged to sign up:
This is how the facilitator process will work:
A facilitator may be anyone who has graduated from (within the past 6 years) or is currently enrolled in a physics, math, CS or semi-related undergraduate program in the US or elsewhere in the world.
We will schedule video networking sessions throughout the week of the program so that each facilitator will have at most 5-8 participants in their "room" (a small group, selected based on both the respective levels of education and geography of interested participants).
Facilitators would be free to choose convenient dates and times for their respective sessions (anytime in August) and send them over to us. The more facilitators sign up, the better the experience will be for everyone, ensuring a low facilitator-to-participant ratio.
The Summer Camp's final schedule will be based on facilitators' responses entirely, and once the session times are determined, we will let the participants choose to "attend" as many networking sessions as can fit their schedules.
During a networking session, each facilitator will first ask the session's participants one by one -- on a voluntary basis -- to briefly share their backgrounds with the others, and then they will talk for roughly 15-20 mins (however long they think is practical) about their experience in undergrad or grad school, both research-wise and in general. Each session will be concluded with a Q&A portion.
We are confident that the several levels of networking sessions (high school students facilitated by undergarduates and current college students facilitated by graduate students and alumni) would lead to: (a) a more insightful and encompassing set of perspectives and networking opportunities for all online attendees, (b) the potential for the nurturing of mentor/mentee relationships, and (c) an opportunity for the creation of a more cohesive long-term community.
Please sign up for the role you are most interested in as soon as you can, so that we have a better sense of our reach. Thank you in advance, and we hope to have a chance to meet you soon!